Crew Provisions/Displays Subsystem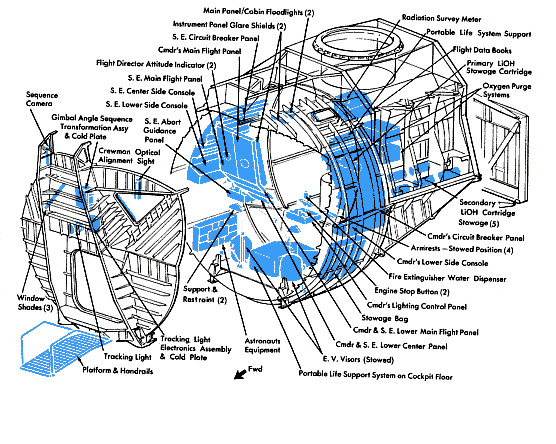 The Crew Provisions/Displays Subsystem on the LM is shown in above. Support and restraint equipment is provided in the forward part of the main cabin. During flight, the support and restraint equipment provides the astronaut with stability to help him accomplish his tasks, and augments his ability to withstand the lunar landing impact.
Other items included under Crew Provisions are control panels, interior and exterior lighting, food and water containers, pressure and thermal garments, and boots.
The Portable Life Support System (PLSS) is a self-contained rechargeable system that provides limited-time life support for an astronaut exposed to extra-vehicular free space, a decompressed LM, or the lunar surface environment.
Waste management is controlled by means of devices which provide for removal and decontamination of urine and feces. These operations are possible under pressurized and unpressurized conditions. Waste water from the PLSS is also collected through waste management devices.
Displays and Controls provide the astronauts with sufficient information and control of the LM subsystems to successfully complete the mission or to return the LM safely to the CSM in an emergency. Located to optimize astronaut safety and mission success, the primary navigation and guidance readouts and data entry panel, propulsion, reaction control, environmental control, flight control and stabilization and control systems panels are either shared or duplicated at both stations. Each astronaut is assigned specific mission responsibilities, and only those parameters are displayed for which there is a potential human response (i.e., control action) .