ASCENT STAGE STRUCTURE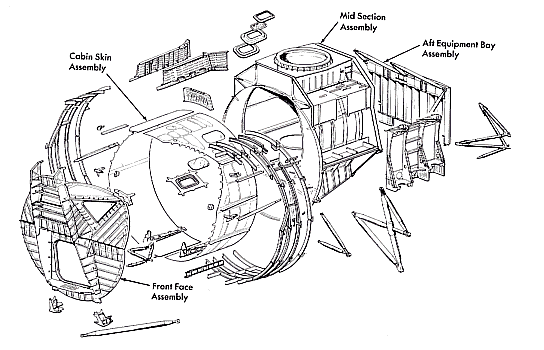 The Ascent Stage structure consists of the following subassemblies: front face, cabin skin, mid section and aft equipment bay. The front face is mechanically assembled from 10 welded and machined sections. After a sealing and curing operation, the outer flange contour is machined for accurate mating to the cabin skin subassembly. The installation of secondary structure (stringers, shelves, brackets, etc.) completes the front face assembly.
The cabin skin subassembly is fabricated from formed chemmilled skin panels that are welded and mechanically fastened. Sealing of the mechanical joints, trimming of the forward edge to match the front face contour, and the addition of formed longerons and stringers complete the operation for this assembly.
The mid section, the largest of the subassemblies in the Ascent Stage, consists basically of two machined bulkheads, an upper deck tunnel weldment, a lower (engine) deck weldment and chem-milled skins. The mid section is mechanically joined with the front face and cabin skin subassembly and sealed to form the cabin pressure shell of the Ascent Stage.
Cold rails, chem-milled beams, struts, and machined fittings comprise the major structural components in the aft equipment bay. The attachment of this subassembly to the cabin pressure shell completes the Ascent Stage structure.