Instrumentation Subsystem (INSTS)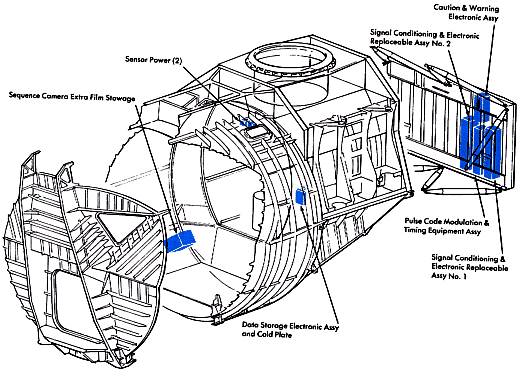 The Instrumentation Subsystem consists of sensors and the signal conditioning, caution and warning, pulse code modulation and timing, and data storage electronic assemblies. The subsystem monitors the LM subsystems during manned phases of the mission, provides signal inputs to the vehicle displays and caution and warning array, prepares status data for transmission to earth, provides timing frequencies for the subsystems, and stores voice data.
Pulse code modulation telemetry changes data generated by subsystem sensors to digital form for S-band and VHF transmissions to keep ground stations informed of vehicle status.
Included within the subsystem are scientific instruments which will be used by the astronauts during their lunar stay for surface experiments.